Awash
Wednesday, October 22 @ 7 PM
Mission report by Arthur Lynn and Lindsay Iserman
For the sixth mission, our guest speaker was Jana Grcevich (bio), a staff member of the American Museum of Natural History and member of the Intergalatic Travel Bureau. She presented information about induction heating, the Hi-Seas project, and her work with the ITB, which will plan your next vacation (possibly one way) to the stars.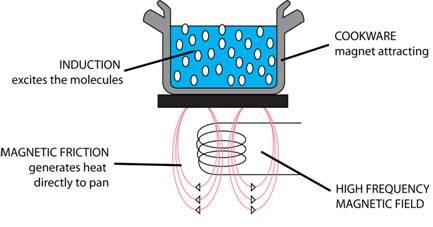 Because of several advantages to traditional heating, induction is considered optimal for cooking in the type of habitats that will likely be used on Mars:
No open flame is needed which is great for cooking in a sealed environment
Less heat is lost making it more efficient than other methods
Faster heating for impromptu dinner parties
Only reacts with ferromagnetic material so less accidents, and easier cleaning. Ferromagnetic materials currently used for induction heating are stainless steel and cast iron.
Technology is already available to consumers and in commercial kitchens, so there is little requirement for development of new technologies.
Recommended use of induction heating:
Induction heating allows for the inclusion of most cooking methods, including frying, searing, steaming and boiling. Optimal use of induction heating would be to quickly boil water or other liquids, such as sauces, soups, stews, and other traditionally long cooking recipes.
Induction heating is currently being put to the test as part of the Hi-Seas project, a long duration Mars simulation in Hawaii. For 8 months, participants are sealed in a solar powered habitat to gain a better understanding of the conditions astronauts (and reality TV stars) might face on Mars. The crew is also equipped with a 3-D printer, composting toilets, exercise areas and artificially delayed internet and communications. We're still curious to find out what they are making for dessert.
From there, the subject veered to the topics of "contaminating" mars and whether that would be good for us/bad for the planet, the long term impact of a sterilized environment on human health, and the significance of the Mars One mission.
As we dined, our table was overflowing with nearly every dish Awash had to offer, and the warm Berbere spices offered a warm respite from the dreary weather outside. One of the key concerns for the Hi-Seas project is maintaining a healthy psychological state, and despite eating a little too much injera, the traditional elements of Ethiopian cuisine seem to have a positive social influence. I would also recommend trying out some eskesta dance. The dance, which revolves primarily around shoulder movements, played throughout the evening on a large television in the rear of the restaurant (link).